Since I published the video of how my automatic system works. I've had interest from all over the world and at least two other builders have tested and produced prototypes. Since the information is out there for everybody, it's possible there are others that I don't know about. Let me know if you know of any.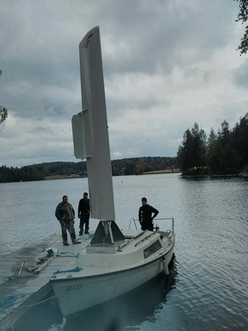 Nash 20 with wingsail fitted.
Dellencat - (Above) Boat builders in Hudiksvall Sweden, tested the system on a landsailer, monohull and catamaran. They found it worked well, and they then commissioned a manufacturer of light aircraft to build them a wing. This wing has now been mounted on a 20ft cruising boat - a Nash 20. Tests are going ahead at this moment. Reports indicate performance is everything hoped for.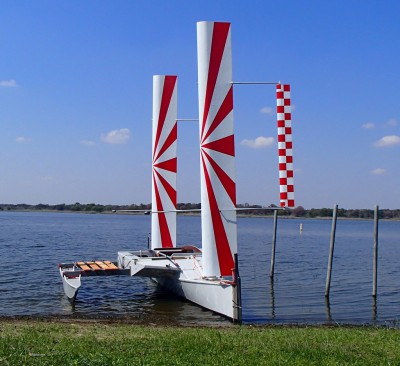 NOMAD
Skip Johnson (below) is a sailing experimenter who lives in Texas USA. His main interest at present is proas, To test the system he built a small proa, called "bionic broomstick". He found it worked well and this encouraged him to use the system on a much bigger proa with two wingsails called "Nomad". This boat has now been launched and so far been successful.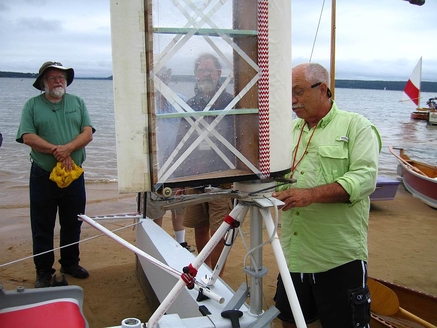 Skip with "Bionic Broomstick" showing control mechanism
I have made some progress for myself also. The wing has now been fitted to a small yacht based at Hickling Broad, Norfolk UK.
On the Seahawk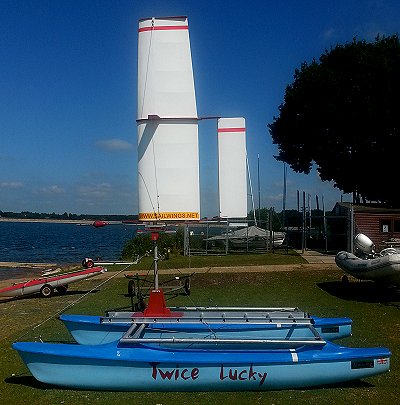 On the catamaran
The standard wing sections I used are 4ft by 2.5ft I can use 2 or 3. They are held together by the wire bracing, With the bracing added the whole wing is very strong. The tail is made from 2 layers of Correx fluted plastic (known as CorPlast in the US and Corflute in Australasia) and only weighs 1 lb.